Broadcasting
100% adhering to the law
AstroPlay! is an environment of Digital TV stream broadcast, including video, audio and data, 100% adhering the Brazilian norm.
With AstroPlay! it is possible to broadcast videos in high definition integrated with applications in NCL, JAVA e JAVA+NCL format, according to the needs of broadcasters, manufacturers and developers, in test or professional character.
Schedule a Demonstration
If you are interested in scheduling an AstroPlay! demonstration, please contact our sales department by sending an e-mail to: comercial@mirakulo.com
---
Flexible
Architecture
AstroPlay! has a flexible architecture that easily adapts to your company's Digital TV environment. The product is targeted at the generation of interactivity through the creation of scenarios where the applications are broadcasted and controlled by AstroPlay! and configured according to the TV content to which they are related.
Thus, applications can be programmed to answer to events sent by AstroPlay! while they are being broadcasted. This enables several scenarios of interactivity to be explored, such as solutions that require synchrony between audio, video and data.
---
General
Characteristics
Audio, video and interactivity server;
Transport streams (TS) repository;
Version-oriented application repository;
Upload support management interface;
PSI/SI server, Electronic Programming Guide (EPG);
PAT, PMT, AIT, EIT, SDT, TDT, TOT, BIT and NIT table generator.
Multiplexer


Recording support on outbound TS file;
Broadcast scheduler;
Supports broadcasts from a TS base, where a new content can be added – or substitute the existing one – to generate a new TS;
Dynamic and static configuration of audio, video, PCR and application PIDs, respecting the Brazilian Digital TV standard;
Broadcasting rate.
Interfaces


Outbound streaming via ASI and RF;
Web Interface for direct access to AstroPlay! functions;
BTS generator.
Interactivity


Generation for DSM-CC object carousel for Ginga standard applications;
Generation of DSM-CC stream events for Ginga standard applications and support interfaces for all types of commands;
Real-time insertion of new application versions;
Real-time insertion of stream events;
Stream events management for transmission according to the program;
Application life-cycle control.
---
Integration with
AstroTV
AstroPlay! integrates with AstroTV's Broadband module, allowing broadcasters to install and manage applications in the viewer Ginga device.
Management and transmission
Transmission Schedule
Life-cycle control
Automatic download of updated versions
---
AstroPlay!
Portable
Targeted at broadcasters, developers and manufacturers of receivers and Digital TVs, this product generates a complete stream, supporting interactivity, audio, video and EPG, making AstroPlay! Portable the ideal environment for tests and demonstrations.
It is an equipment recommended for field tests and it can be easily carried anywhere.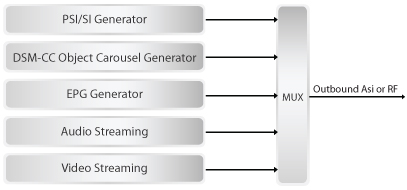 ---
AstroPlay!
Studio
Targeted for broadcasters, this product is connected to a pre-existing environment of Digital TV production, commanded by an automation process, generating the stream transport with all the interactivity data.
AstroPlay! Studio is composed by transmission flow generators, where the interactive applications, the flow events and the tables regarding the interactivity are generated.
The equipment is available in rack format, ready to the production environment.